Welcome to the perfect home-base for sailors, boaters, fishermen, history buffs, photographers, and nature enthusiasts. Enjoy day sailing in and around the Boothbay peninsula as part of our famous rocky coastline. and explore Linekin Bay with the two tandem kayaks provided by the owners of this three-story blast from the past.

Sailing, swimming, kayaking, fishing, boating –right from your own dock & float. Captain's Quarters is for anyone who loves the ocean! This house was featured in the made for PBS television series, Getting Away Together. We have a link to it here on this page or go to: http://www.gettingawaytogether.com/destination/booth-bay-harbor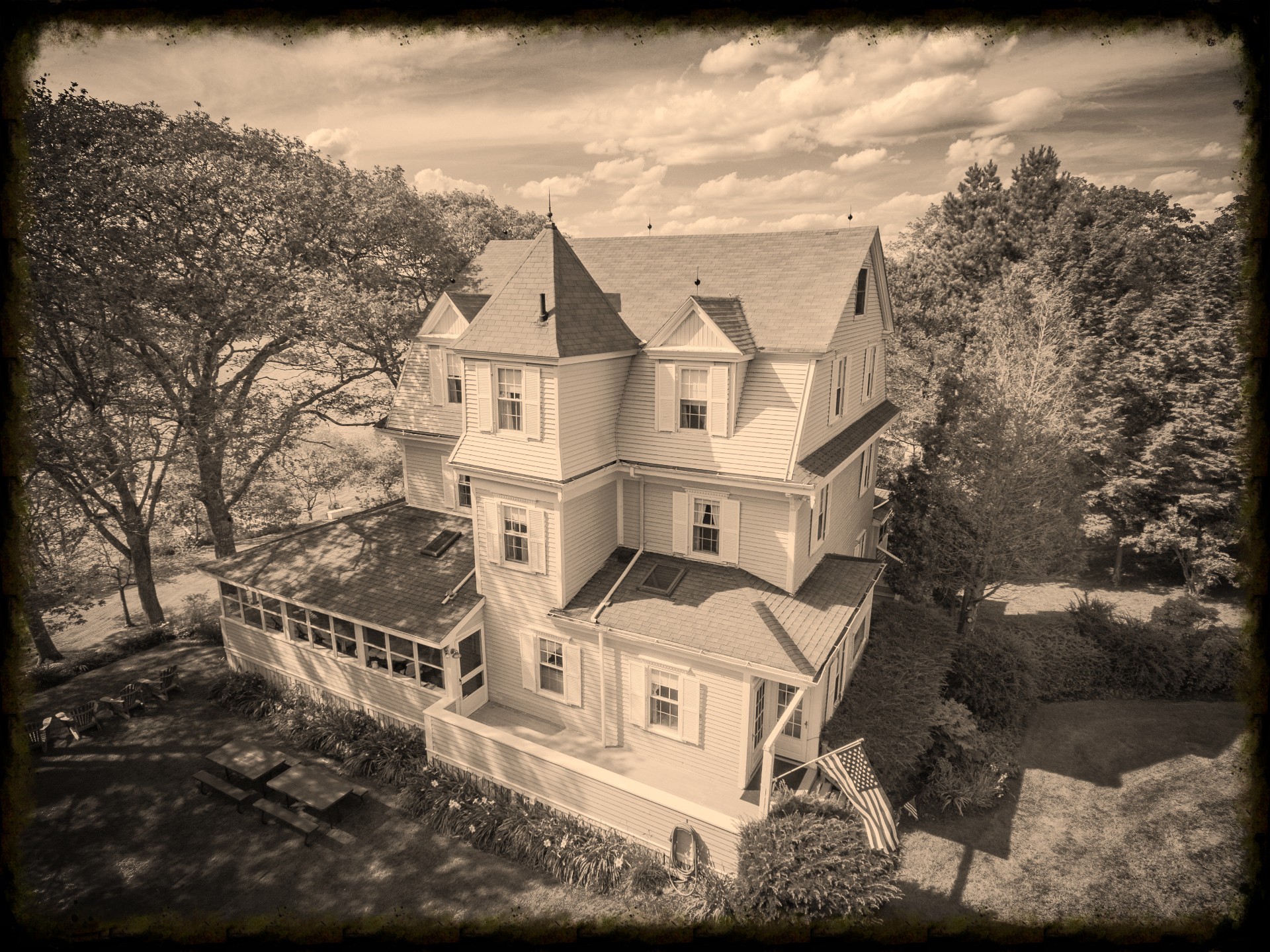 calendar 2018

Clicking this button will open a new tab.
Historical Lodging is a division of
Cottage Connection of Maine, Inc .

Check if your dates are available on the calendar below. You will be able to enter your desired dates and confirm availability on the booking page by clicking the BOOK IT NOW button below.
Guests: 16
Bedrooms: 8
Bathrooms: 3
Allows Pets: Yes
Built in the late 1800's, this beloved home rich in history and began life as an Inn in service to the steamships traveling the coast of Maine and later became a Sea Captain`s home. It is most known for its spectacular wrap-around porch with sunset views overlooking Cabbage Island and Linekin Bay. Come see how the current Captain and his family have brought this gracious lady into a modern world without destroying the charm and character of the house.
THE HOUSE: Enter through the well-equipped kitchen on the first floor, with two coffee makers, two refrigerators, and an additional freezer. The kitchen is large enough for folks to 'hang out' while preparations are underway.; an island in the middle and several bar stools for eating or just "gathering together" to cook and talk and enjoy time with each other. A formal dining room, large living room and 3/4 bathroom (shower) round off the first level. The living room has a gorgeous fireplace and several furniture groupings offering plenty of space for conversations and indoor activities such as puzzles, board games, and Wi-Fi. Mementos from the current owners as well as historic pieces from over a century of visitors, this cottage welcomes you to come right in and make your own memories! The second floor has four bedrooms and a full bathroom: The Lilac Room has a King bed, gracious lilac wallpaper, and soothing furnishings. This room is for morning people with views over the terrace and lawn. The Nautical Room has a Queen bed and just enough nautical touches to have you dreaming of adventures on the high seas. Lace curtains frame views of Linekin Bay and Cabbage Island. The Butterfly Room has two Twin Beds. Hand-painted butterflies flitter about the walls of the room creating a soothing oasis of whimsical magic with beautiful touches adding to the charm. The Bird Room has One Single Bed and one Double Bed. Hand-painted art depicts life-size images of local birds and their habitat. Civil War era furniture and appointments add beauty to this incredible room. The third floor has one full bathroom and four bedrooms, each with two twin beds: The Garden Room, with two single beds, is complete with a white picket fence around the hand-painted garden circling the room. Little bunnies, birds, ladybugs and more make delightful roommates! The Harry Potter Room, with two Twin beds, is a wizard's delight with all manner of secret magic paraphernalia. Should the need to look up a potion recipe arise, a set of the books is on hand! The Red, White & Blue Room, with two Twin beds, is replete with red and blue roses on the walls and carpet with white blankets making this room the perfect haven for the patriot in your group. And lastly, The Soldier's Room, with two Twin beds and tin soldiers marching wallpaper, will inspire child-hood nostalgia you will want to share with your grandkids!
THE PORCH: An enclosed porch wraps around three sides of the house with glass and screen windows letting in the sunshine, sea breezes, and amazing views! White wicker furniture with nautical-inspired cushions leads from one seating arrangement to the next. Dining tables, a foosball and Ping-Pong table along with games, puzzles, a reading library and DVD's will provide hours of endless entertainment. In the evening, warm lighting and salty air lend a festive ambiance for music, games, storytelling, and gathering together.
THE GROUNDS: The grounds cascade in tiers from above the house down to the water. Small vignettes of flowers, flowering bushes, and seating arrangements create beautiful gathering spots as well as private reading areas. Hummingbirds, butterflies and dragonflies are here throughout the entire season, as are many nesting birds. A gas BBQ and cook-out area with picnic tables are great for outdoor grilling and provide the perfect venue for an old-fashioned lobster bake. Croquet, horseshoes and badminton games are available. There is a swing set for small children!
PETS PERMITTED? Yes, pets are allowed
LINENS & TOWELS INCLUDED? Yes, linens and towels are provided for your stay at no additional cost.
Extending out into Linekin Bay, the low tide depth of the float is 10'. Bring your kayaks and boats. Adirondack chairs on the dock are perfect for morning coffee or evening cocktails or just to enjoy the cool afternoon breezes. Be sure to bring your camera! Captain's Quarters looks directly out at Seal Rocks which at low tide is covered by sun-bathing seals. Osprey, eagles, loons, herons, cormorants, and seals are just some of the animals that frequent this diverse natural habitat. Swim, sunbathe or fish from the float. Two deep water moorings are also available, ask for details. Bring your own boat, or rent one. Boating in Maine requires that you read charts and be aware of the tide changes. In Maine, we have 9-foot tides. If you happen to be down at the dock and a lobsterman comes by to pull his traps, wave him in and you may be able to buy lobster right from the boat.

Bluefish, mackerel, stripers and sea bass have all been caught in Linekin Bay. Walk from the house to the Burley Loop. This land was donated to the Boothbay Region Land Trust by the neighbors. It is a lovely and gentle trail. We are so lucky to have the East Boothbay General Store a mile away for morning coffee and great food. We especially enjoy the Blueberry Gorgonzola Pizza they offer. Delicious! Lobstermans' Wharf is a great place to sit and eat out on the deck and watch the boat traffic and the boat builders next door. But the very best thing about Ledgelawn by the Sea is being with friends and family to eat great food, especially lobster, relax, have fun and reconnect. This is summer in Maine at it's finest.
The Boothbay Peninsula is a beautiful region rich in culture, history, all things nautical and of course its own unique niche in nature. The area offers ample opportunities for biking, kayaking, canoeing, fishing, charters and guided cruises, spas, golf, mini-golf, bowling, museums, antiquing, hiking and walking trails. We have the Maine State Aquarium, the Coastal Maine Botanical Gardens and the Boothbay Region Land Trust with its 30+ miles of pet-friendly trails in protected areas.
East Boothbay is an area that stretches from Boothbay Harbor out to Ocean Point. There are several little seaside communities that are part of East Boothbay. Rich in boat building history, East Boothbay in renowned the world over for the shipyards of the region. With many seasonal seaside cottages and homes, there are a few brave souls who call East Boothbay home year-round! Restaurants include Lobsterman's Wharf, Ocean Point Inn, and East Boothbay General Store. A full-service Marina is located behind the Post Office. Great walking trails and of course incredible ocean views abound in this unique part of the Boothbay Peninsula.
Bedrooms: (1) Double Bed, (2) Twin with (1) King Bed, (1) Queen Bed, (2) Twins)

Bathrooms: (1) 3/4 Bathroom with Tub and (1) 3/4 Bathroom with shower

Pets Allowed : YES
Linens Included (bed sheets & towels) : NO
Pillows and Blankets Included : YES
Cleaning Fee : YES
Washer/Dryer : YES
Dishwasher : YES
Microwave : YES
Lobster Pot : YES
Coffee Maker : YES
Internet - WIFI : YES
TV - Cable/Satellite : YES
TV- Antenna : NO
Fireplace, Wood : YES

Fireplace, Gas : NO
Air Conditioning : NO
Heat : YES

Association Beach/Other Beaches Nearby : YES

Dock/Float : NO
Beach or swimming at cottage : YES
Grocery Store - within 10 minutes : YES

Boats Provided : NO

Mooring for a fee : NO
Deck/Porch : YES

DVD player : YES
Gas Grill : YES
Charcoal Grill : NO

Fire Pit : NO
Lawn/Deck Furniture : YES
Smoke/CO Detectors : YES
Fire Extinguisher : YES
On-Site Parking : YES
Expansive Lawn : YES
Pets Allowed : YES
Linens Included (bed sheets & towels) : NO
Pillows and Blankets Included : YES
Cleaning Fee : YES
Washer/Dryer : YES
Dishwasher : YES
Microwave : YES
Lobster Pot : YES
Coffee Maker : YES
Internet - WIFI : YES
TV - Cable/Satellite : YES
TV- Antenna : NO
Fireplace, Wood : YES

Fireplace, Gas : NO
Air Conditioning : NO
Heat : YES

Association Beach/Other Beaches Nearby : YES

Dock/Float : NO
Beach or swimming at cottage : YES
Grocery Store - within 10 minutes : YES

Boats Provided : NO

Mooring for a fee : NO
Deck/Porch : YES

DVD player : YES
Gas Grill : YES
Charcoal Grill : NO

Fire Pit : NO
Lawn/Deck Furniture : YES
Smoke/CO Detectors : YES
Fire Extinguisher : YES
On-Site Parking : YES
Expansive Lawn : YES